The National Marketing Conference (NMC) is an annual event of the Philippine Marketing Association that brings together marketing experts, business leaders and individuals to talk about the latest marketing trends and practices globally. It is the most-awaited conference in the field of marketing in the country and considered to be the official gathering of marketers.
THIS YEAR'S THEME

Future-Ready Marketing Strategies for Tomorrows' Business
Inspired by the film READY PLAYER ONE, The 52nd National Marketing Conference is ready to conquer the digital world of the METAVERSE, AI and other emerging technologies to help Filipino Marketers in Navigate and thrive in these new spaces.
Featuring Actual Case Studies, Strong Brand Cases, Tools and Real-life Pro-Tips coming from Marketing Rockstars both Local and International. In its first-ever edition in a HYBRID Format whereas attendees can both attend physically and in a recreated world of the venue.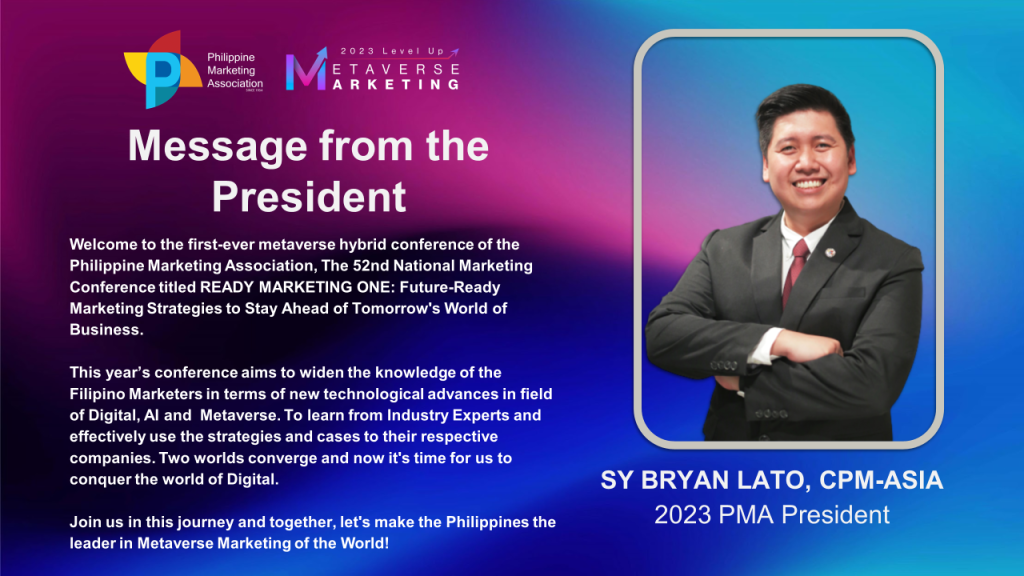 What to Expect?
1ST METAVERSE-HYBRID CONFERENCE
The First of its kind Conference in the country. Where participants online can navigate the actual venue anytime, anywhere. While the physical attendees can reach out to both physical and online attendees. Also Basic Modules and Talks missed will be uploaded in the platform for participants to watch on demand.
More Features of the conference will be revealed very soon.
LOCAL & INTERNATIONAL SPEAKERS
TOP MARKETING LEADERS IN PH
1000 ATTENDEES ALL OVER THE COUNTRY
NMC AFTER PARTY BUSINESS NETWORKING
BUSINESS MATCHING AREAS & PLATFORM
BRAND BOOTHS AND PHYGITAL ACTIVATIONS
PMA'S THE NEW MARKETPLACE and MANY MORE
TOPIC HIGHLIGHTS
How Rebels and Innovators Create New Markets, Slay the Competition and Run off with All the Money
The Future of Business: Merging Online and Offline Experiences through Phygital Solutions
Gamification: Creating Immersive and Interactive Brand Experiences
Harnessing Artificial Intelligence in Business and Marketing
Augmented Reality Marketing: Engaging Consumers through Immersive Experiences
Omnichannel Marketing: Bridging the Gap Between Physical and Digital Experience
and many more