At Ubud, Indonesia, two great Filipino marketing professionals did the country proud by bagging YWN Marketing Excellence Awards — Agora Awardees Rio Ilao and Avin Ong!
Ilao was recognized not only as Asia's Top Outstanding Women Marketeer of the Year but also as Asia's Top Outstanding Netizen Marketeer of the Year. Meanwhile, Ong bagged the Asia's Top Outstanding Youth Marketeer of the Year.
The Asia Youth, Women, Netizen (YWN) Marketing Excellence Awards was initiated by the Asian Marketing Federation (AMF), the highest networking body of marketing associations in the region. The finalists were selected by the local marketing associations (NMAs) in nineteen countries then these local winners were recommended to AMF for final evaluation and selection.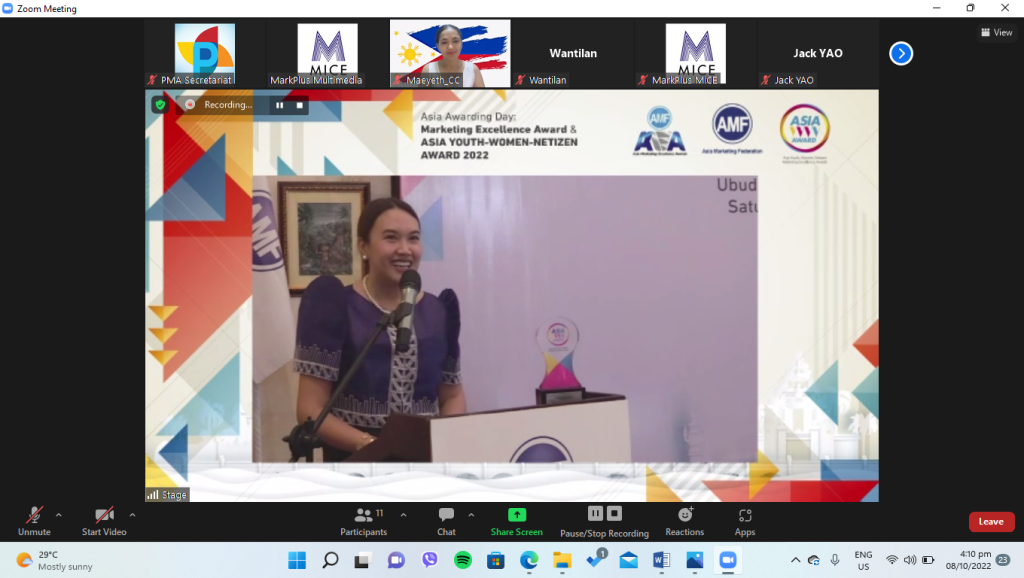 WOMAN EMPOWERED
Maria Rosario "Rio" Ilao, founder and CEO of MobileOptima Inc., cannot believe the good news when informed of her recognition, saying "I thought I misread the letter from PMA congratulating me for winning. I had to read it several times."
She recalled how nerve-wracking the judging was but she believed that what made her win was "the solid, unquestionable business results … growing our company by almost twenty times in the last five years, often going head-to-head with giant foreign tech companies."
Not new to receiving recognitions, in 2021 Ilao got the Agora Award for Outstanding Achievement in Entrepreneurship (Small Scale Category) and a year before that, the Mansmith Enterprise Innovator Awardee, Technology Category.
Yet despite these accolades, her biggest accomplishment was to "build our brand, Tarkie (that despite) limited marketing budget … (it has emerged as) one of the largest solution providers, offering field work automation and real-time productivity tracking."
Ilao shared tips on how to have a winning strategy – FIT. 'F' stands for Funnel marketing which is "a strategic effort to design an end-to-end buying journey for your customers – from building awareness to interest to desire all the way to action or conversion." 'I' is Innovation, "introducing new features and technologies to our products" with features that customers need. Lastly, 'T' stands for Technology which calls for "looking for tools and leveraging them to drive your business."
In closing, the uttered, "I am truly honored and grateful to be given this award, along with other great Asian marketers."
VETERAN OF AWARDS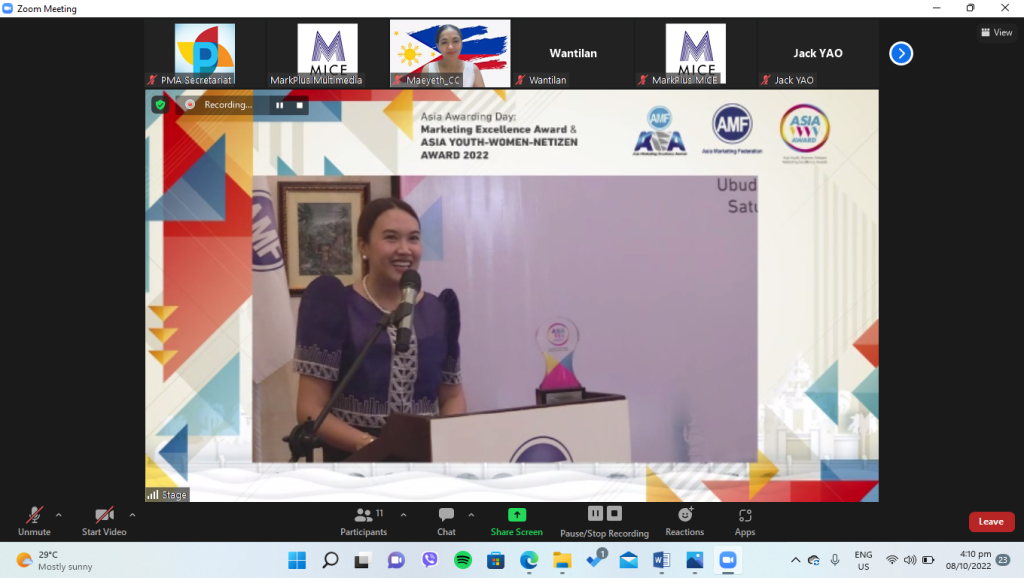 Avin Ong, Fredley Group of Companies' CEO, Founder and Chairman of the Board, is certainly no stranger to awards. Just to name a few, this year alone he has garnered Asia's Most Admirable Young Leader, Asia Corporate Excellence & Sustainability Awards; Youth Market Master, Mansmith Youth Market Masters Award; Young CEO of the Year, Asia Leaders Awards; Grand Winner of Young Leader of the Year, Asia CEO Awards 2022; and Top 50 Rising Tigers and Nation Builders in Asia, 2022. He also notched the Outstanding Achievement in Entrepreneurship – Medium Scale at the Agora 41st Awards.
Ong, despite being a veteran to awards, "couldn't believe that out of seventeen global nominees, we were recognized as the winner." Looking back now, he attributed his winning to three factors – his personal experiences which influenced his business, the company constantly challenging the norm when creating campaigns and their CSR initiatives which support several advocacies.
The multi-awarded marketer considers "seeing your goals become the end result" as the most rewarding part. He confesses, "I enjoy marketing a lot and treat it as a challenge to become more creative. I feel like accomplished whenever I am able to come up with fresh ideas, no matter how crazy or uncommon they may be."
Meanwhile on excellence, Ong shared, "what makes an excellent marketer is crafting a path that gives importance to appetite for learning and knowing one's purpose." He prods fellow marketers to "constantly expose yourself to new tools and techniques, … travel and explore, …. get inspiration from outside your comfort zone, and apply your new learnings and discoveries to your ventures."
Undoubtedly, the Filipino marketers' excellence shines not only in their home country but also in the whole of the Asian region. Truly inspiring and worth all the praise and admiration. Congratulations Rio Ilao and Avin Ong for making us proud Pinoy marketers!