Felta Multi-Media, Inc. bagged the 2022 ASEAN Business Award for SME Excellence in Innovation during the ASEAN Business and Investment Summit held recently in Phnom Penh, Cambodia. Two other Filipinos were awarded.
Helmed by Felta President and CEO, Mylene Abiva happily shared her thoughts on receiving the award, "it is a validation of our emphasis on science, technology and innovation as a critical enabler for sustainable development particularly on economic growth, social development, human resource capital, technology-driven jobs revolution and environmental sustainably in ASEAN."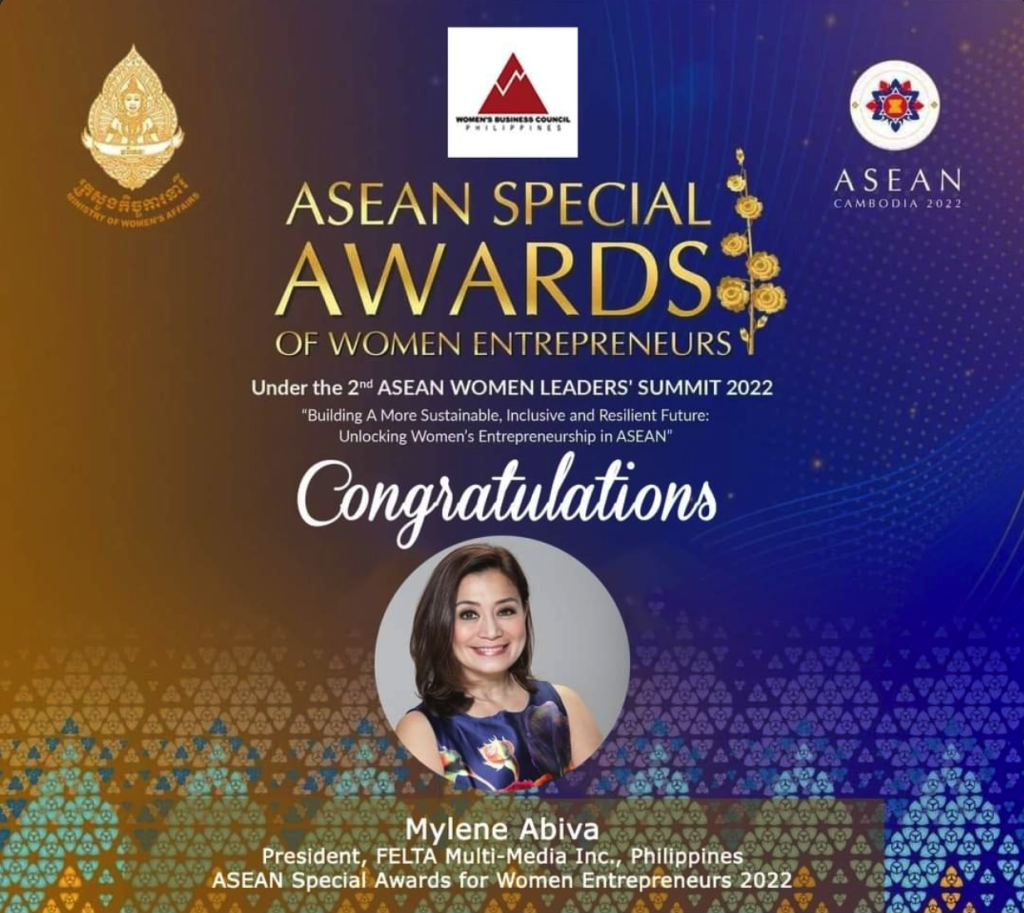 The summit is Southeast Asia's premier annual forum which brings together ASEAN heads of state, world leaders, CEOs, industry leaders, and other key business decision-makers. This year's Philippine contingent was led by President Ferdinand Marcos Jr. and DTI Secretary Alfredo Pascual.
TWO IN A ROW
In a short huddle, the 2009 PMA past president revealed how she got the news of her winning, "Go Negosyo Founder and Presidential Adviser for Entrepreneurship Joey Concepcion shared the good news to me and posted it in social media." Making this accolade more special was the fact that it came a few weeks after Abiva notched the ASEAN Special Women Entrepreneur Award 2022 also in Cambodia.
In 2020, Abiva bagged the Asian Marketing Federation Woman Marketer of the Year while in 2009, she got recognized as the Ernst & Young Woman Entrepreneur Philippines Awardee and Ernst & Young Global Women Advisory Council.
On being an excellent marketer, the CEO suggests fellow marketers to "practice marketing agility" by "constantly adapt(ing) to (the) changing business circumstances and conditions and develop product or service that changes the market." She reasoned, "with the volatile and disruptive market we are experiencing today due to the pandemic and geopolitical conflict, businesses should rapidly iterate between market demand and executing innovative marketing decisions."
There is no stopping the Filipino marketer from displaying excellence in this field! Congratulations Mylene Abiva and thank you for making us proud!